Yes, Say "Vagina": 8 Ways to Get People Talking around a Table
Go to dinner at author and LGBTQIA activist Jodie Patterson's stunning brownstone in Bed-Stuy, and prepare for the conversation to get real—greying pubic hair, who sits at the head of the table—while you're being (gorgeously, stylishly) entertained. "The best conversations are the ones about the thing you just can't get out of your head," says the fifty-one-year-old mom of five, who's the Human Rights Campaign Foundation board chair. Here, her brilliant, easy tricks for getting people talking and having a fantastic time.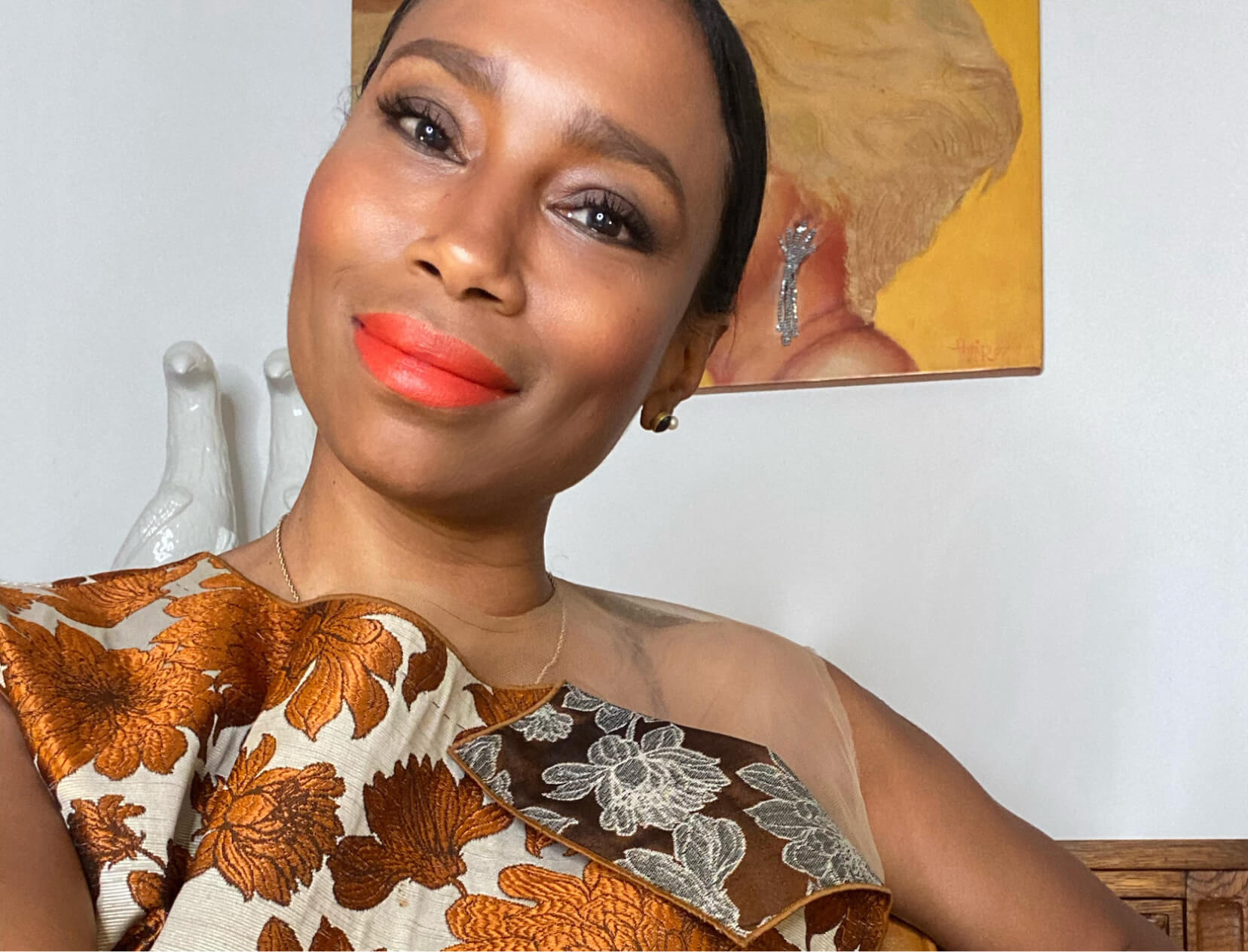 Yes, Say "Vagina": 8 Ways to Get People
Talking around a Table
Go to dinner at author and LGBTQIA activist Jodie Patterson's gorgeous brownstone in Bed-Stuy, and prepare to get real around the table. You might touch on how work's going or where the person next to you got her earrings—or cut straight to vaginas. "I've been thinking a lot about that area lately because I saw a grey hair," laughs the fifty-one-year-old mom of five, who's the Human Rights Campaign Foundation board chair. "The best conversations are the ones about the thing you just can't get out of your head. If I'm thinking about something—there was a time with my son when gender and trans identity was all I'd talk about at the table—that's what my conversation centers around. Big topics, versus the rosé we're drinking, push the conversation and nudge other people to go deeper into what's on their mind."
Speaking straight and navigating potentially uncomfortable subjects in a way that feels conversational, nonjudgmental, and even exhilarating are just a few of Patterson's talents—she's had big careers in fashion and beauty and wrote two fantastic books inspired by raising a trans son, The Bold World: A Memoir of Family and Transformation, and a children's book, Born Ready: The True Story of a Boy Named Penelope (she's currently working on a third book about genderless mothering). "Once, I put a packer—a silicone prosthetic that mimics the look of a penis, so if you're a trans man you can put it in your pants or bathing trunks so that there's a bulge—on the table, and my kids were like, 'What is that?'" Patterson says. "So we had a conversation. Maybe one of my kids will use one someday, so why does it have to be this weird thing? Talking about big ideas or new concepts over food, at the table, where you feel loved, is the best way to make something not weird."
Along with the rule that no topic is too unseemly to bring up over food, Patterson has brilliant, easy tricks for getting people talking.
1
Best fuel for discussion:
an epic but easy main course
I don't like hours of prep—my meals typically come together within an hour. I make this roux with olive oil, garlic, and red onion, and it's my foundation for so many different dishes. My move is throwing everything into one pot or big cast-iron skillet and letting it simmer, mostly untouched, until it's done. I do a pot of French lentils with the roux, celery, and shredded carrots and serve it over sweet potatoes or a bed of rice. My other go-tos are bacalao [salt-cured fish that's common in Caribbean food], skillet cornbread, sautéed greens, hearts of palm salad, and salmon with ginger on top. I get a batch of wild-caught fish delivered once a month—scallops, all different types of thin white fish—and cook the fish with my roux. I also looove the app Savour; it gives you access to amazing chefs who are out of work because of the pandemic. You choose a cuisine, and the chef does all the shopping and all the prep and chopping, and they serve you and your guests dinner at your house. It tastes as incredible as going out to eat at Indochine. You just gather around your table and everything is beautifully presented and delicious.
2
Serve a sh*t ton of healthyish hors d'oeuvres
I like the stinkiest cheeses (I can take down an entire wheel of Drunken Goat, then I'm like, 'That wasn't smart,' and I'll go for a run later on to compensate) along with hummus and olives. I like to serve raw appetizers, like those little crunchy red peppers (a vegetable my kids will actually eat). Fermented foods are so good for you—I might put out some kimchi in a bowl, too. I also take whole leaves of collard greens and stuff them with leftovers like tuna, lamb, sliced turkey, or fish to make little burritos. It's the best appetizer, and the burritos are easy to make tiny or big. I always have good olive oil on hand, cayenne pepper, this salt blend flavored with dried citrus, and a spicy Ghanaian seasoning paste called shito that's made from dried fish, salt, and pepper—my kids' dad is from Ghana. I keep it out for people to dip things into, use it to flavor stews, and eat it over an avocado.
3
Make simple drinks that don't knock your guests out
Tequila and rosé: That's what I always have out. My older friends are having a hard time with red wine these days—I think it's an age thing—maybe we're all just tired to begin with. My drink is tequila with a little water, or sometimes Lillet with soda water.
4
Assigned seating is boring
My dad and mom always sat at opposite heads of the table, so I sat myself at the head for years. But no, where you sit should be more about your mood and your headspace. So I set the table and let people gravitate to suit their mood, and good talk happens regardless.
5
Mix with abandon
I like a mix of plates, napkins, and placemats—my style is a combination of French, old-world, African, and vintage. My Southern mom, who believes in always doing a proper table setting, passed me down gold-rimmed plates and gold-plated silverware that's so old, it looks gold-dusted at this point. Combine patterns and textures you love, and it'll all come together.
6
Candlelight creates intimacy
I have a lot of different candles on the table: My friend owns Brooklyn Dolly, which makes ones that look like those candles you get at the corner bodega in the tall glasses but decorated with her own artwork. And I have some olive-green and rose-colored candles in chunky glass holders. My overhead lighting is dim—those warm amber bulbs with the vintage feel.
7
Do a little beauty look
I like a bold red lip, eyebrows, and dewy skin. My hair is in a slicked-down side part à la Tilda Swinton (when it's short) or a middle part à la Sade (when it's a bit longer).
8
Fitted dresses make the best uniform
When you're cooking and moving around and even talking at the dinner table, it's nice to see the motion of someone's body. We're a family of talkers—we communicate with our bodies, arms, and hands—and I like to see that full expression. I'm into formfitting, flower-printed dresses by Marshmallow by Lady; I love almost anything that shows your entire silhouette. Sometimes I throw a fitted dress on over jeans. I never wear shoes. Everyone is either in their own socks, socks that I've given them (I have a sh*tload of socks because we're a no-shoes house), or slippers (I have a collection of shearling ones I got on a trip to Lisbon).
We hope you enjoy the books recommended here. Our goal is to suggest only things we love and think you might, as well. We also like transparency, so, full disclosure: We may collect a share of sales or other compensation if you purchase through the external links on this page.